Accessing Care After Hours
---
AFHT After Hours Access
The Physician Line and Walk-In Clinic Hours may be affected by the Holidays. For the 2023 Holiday Hours please CLICK HERE
After Hours Physician Line Tues – Thurs 4:30pm-8pm. Call 519-736-7770 –
For non-emergency health concerns that cannot wait until next day.
Walk-in Clinic for health concerns requiring same day care every Monday from 5pm-8pm & every Saturday from 9am-12pm. 
Please note, this line and walk-in clinic is for Amherstburg Family Health Team Patients Only. Walk-in hours of operation may change without notice.
If you are experiencing a medical emergency please call 911 or go to your nearest emergency department
---
Other Healthcare Access Options
Adult and Paediatric Respiratory Care Clinic at Windsor Regional Hospital. Call 519-973-4443
Open 7 days a week from 9 am to 3 pm or click HERE to book an appointment online
In the case of emergencies, we understand that there is sometimes a need to go to a walk-in clinic or ER. But, if it is not an emergency, please give us call so we can help you get the care that you need.
Medimap – a medical clinic directory that helps locate all walk-in clinics in our area.
---
At Home
Health Connect Ontario by online chat, or phone. A Registered Nurse can take your call 24/7. Call 1-866-797-0007 or click HERE to start a chat.
Access more information on care for children, including helpful videos, through TREKK (Translating Emergency Knowledge for Kids) by clicking HERE.
For information to help decide if your child needs emergency care click HERE.
---
In cases of medical emergency
Call 911 immediately and follow their direction.
---
What is considered 'acute'?
A condition that comes up suddenly is acute – including but not limited to a sore throat, ear/eye infection, rash, animal bite etc.
Chronic conditions (diabetes, high blood pressure, medication refills, form completions or annual physicals) are not considered urgent and should be managed through routine office appointments.
I work during the day; can I wait for the After-Hours Clinic to see my doctor?
No.  this physician line is intended for urgent/ acute after hours cases only.  For regular health care phone call appointments, you must call and schedule an appointment with your doctor, or book your appointment online.
Can I talk to my own doctor on the After-Hour Physician Line?
Not necessarily, you will be connected to whichever physician is covering the line at the time of your call.
I don't have a doctor; can I call the After-Hours Physician Line?
No. Unfortunately, this service is for AFHT rostered patients only.
2023 Holiday Hours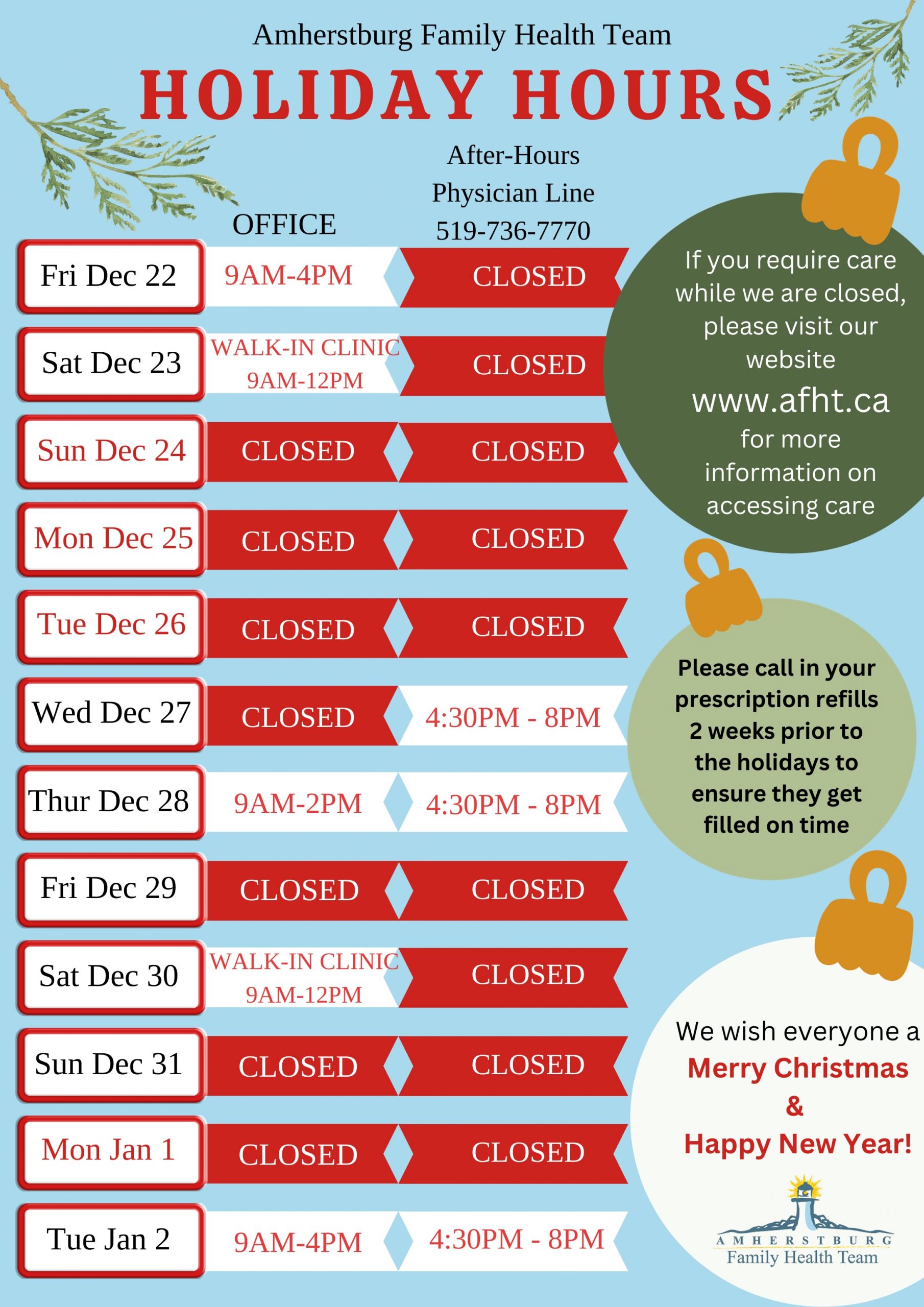 [/vc_column_text][/vc_column][/vc_row]