November 6, 2020
Posted by:

Amherstberg Family Health Team

Category:

News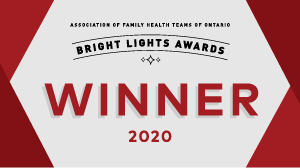 Award:
Integrating Digital Health and Virtual Care
Achievement:
Increased daily appointments and after-hours access with platform that incorporated EMR
With COVID-19 restrictions in place, our team turned to virtual care to improve patient access. Healthcare organizations across the region realized that during the pandemic, after-hours access was going to be impacted as walk-in clinics reduced hours and patients hesitated to seek in-person care in acute care settings, due to the risk of COVID-19 exposure. This resulted in our patients expressing the need for increased after-hours access to care and drove the us to create an innovative, sustainable solution to provide after-hours access.
We couldn't have accomplished this success without the feedback from our patients and the hard work and dedication from our entire team.
For further information on this achievement click HERE
If you are a patient, and would like to provide us any feedback please complete our Patient Satisfaction Survey by clicking the button below.